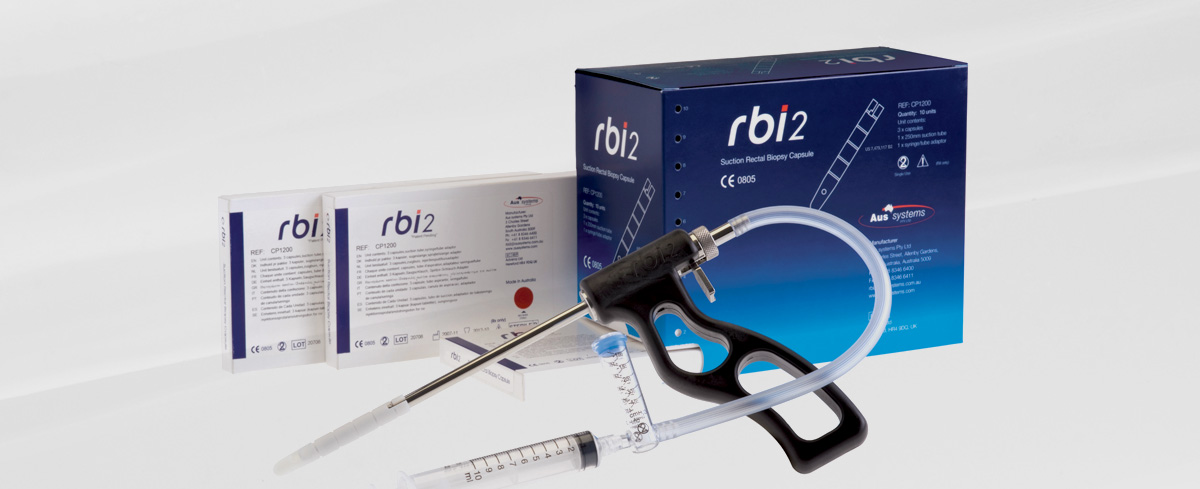 The World's #1 suction rectal biopsy system for the diagnosis of Hirschsprung's Disease is now available with a manometer.
Finally, the easy way to perform a suction rectal biopsy
Manufactured by Aus Systems, the rbi2 features a single-use sterile capsule tip that eliminates problems associated with current suction rectal biopsy equipment. The capsule houses an ultra-sharp blade for a clean cut, provides an airtight seal for precise suction, and captures the biopsy specimen for easy viewing.  And the reusable hand piece is easy to care for.
With a reported accuracy rate of 99.7% and requiring no anesthesia, the suction rectal biopsy – considered the gold standard for the diagnosis of Hirschsprung's Disease – is widely used without complications.
Now the rbi2 is the gold standard for performing the biopsy. Previous systems often made this otherwise simple bedside procedure cumbersome and more costly. Blades had to be regularly sharpened to prevent inconsistent or multiple biopsies, and unreliable sealing sometimes resulted in an inadequate specimen.
However, the rbi2 system eliminates these problems and helps ensure a quick, successful procedure. No more dull blades, accidental sharps injuries or inadequate specimens. You'll always get:
A clean, precise cut each and every time
Consistent suction
Uniform specimens
Easy specimen access
Rbi2 Demonstration/In-Service Video: